SICK WITH SIN!
Namaan was a very important man. He was a soldier. He was captain of the army of the King of Aram. He was brave and a good leader. His soldiers had won battles. Here he is in the picture, riding his war-horse and holding up his sword.
But children, though Namaan looked really wonderful in his helmet and armour, underneath he had a big problem. Do you know what it was?
Well, whenever Namaan took off his helmet and his armour and looked at his skin, he was covered in awful sores.
You see kids, Namaan had the terrible disease called leprosy! Leprosy started with a tiny sore on your skin which slowly got bigger and spread over your whole body. Your fingers, toes and the tip of your nose would drop off. In Bible times there was no cure. Eventually you would die, from it. How tragic!
Well children, did you know that leprosy is a picture for us, of SIN, in the Bible? Every one of us is like Namaan, you see. We look pretty good on the outside but underneath we all have a big problem. This problem is a problem that will eat away at our lives and destroy them for ever. It is the problem called SIN.
The Bible tells us that, "All have sinned." So we all have the problem. There is no kid who doesn't! Today we don't hear much about the disease called leprosy but we hear a lot about a disease called cancer. Sin is like cancer. It will eat away at our lives and finally kill us and keep us out of Heaven for ever.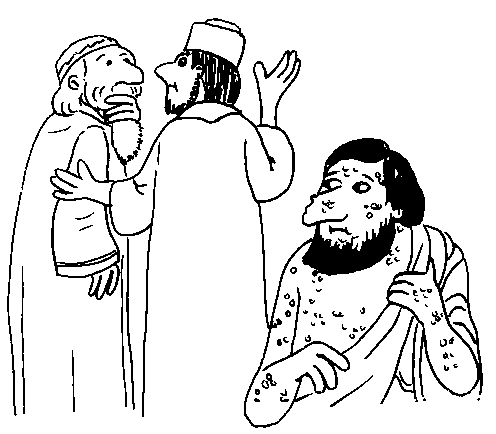 Namaan's only hope was a miracle from God to SAVE him from LEPROSY. You and I need a miracle from God to SAVE us from SIN. We can find a miracle cure from SIN through TRUSTING in the Lord Jesus Christ, who DIED for our SIN and ROSE again.
"By his wounds you have been healed" 1 PETER 2 v 24
PRAYER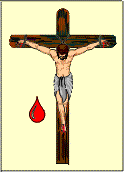 "Lord Jesus I have the awful disease called SIN and I need You desperately. Without You I have no hope. SIN wants to destroy me for ever. Your BLOOD was poured out on the CROSS for me. Wash away my SIN now. In Your Name I pray. Amen."
What a wonderful God Jesus is!
Questions for you to answer:-
1) What disease did Namaan have? ___________
2) What disease do we all have? ________
3) Who can wash away our SIN in His blood? _______
If you would like to win a PRIZE, fill out the ANSWER FORM below. Write your NAME, your AGE, your E-MAIL address and write, "Lesson 45, Sick with Sin." Then answer the QUESTIONS, 1, 2 and 3. Finally, CLICK the SEND button. If your answers are all correct we will send you an award.
ANSWER FORM
Or, you can print out the sheet, colour in the picture, fill in the answers, and POST to us at the address below:-
Ray and Trixie Keilty

32 Oakfield Tower
Motherwell
ML1 1XN
Scotland
We will mark the sheet and return to you with a PRIZE. Please ask your parents' permission, and include your name, address and age. Thanks.