TELL OF JESUS!
Namaan was a very brave soldier. He looked fine in his armour, riding his war-horse but he had leprosy. This reminds us that we all have something wrong with us, no matter how good we look. We all have SIN inside us and this is a real problem.
Namaan's wife had a little maid. She was a young girl from Israel, who had been captured by Namaan's soldiers. She worked in the kitchen in Namaan's house. She became very fond of Namaan and his wife and was really upset to hear about her master's illness. She was very worried about Namaan, as she knew he would soon die if he didn't get help for the disease.
One day the little maid said to Namaan's wife, "If only my master would go to see the prophet in Israel. He would cure him of his leprosy."
You see kids, the little maid knew that Namaan's problem was so bad that he needed a miracle, if he was going to live! She knew that God's prophet, Elisha, could do miracles, by the power of God. She believed the prophet could heal Namaan and she told him so.
In the picture above click the button to see the little girl working. Click again to see what she said. (Flash Player 6 is required).
Well children, you and I know that every one of our friends and family have the bad problem of SIN and they need a miracle, if they are going to live forever in Heaven with God. We believe that only the Lord Jesus, can cure us from the problem of SIN because He died on the cross and gave His precious blood there to SAVE us.
Will you be like the little maid and tell someone about the power of the Lord Jesus to SAVE them, today?
Namaan's only hope was a miracle from God to SAVE him from LEPROSY. But he needed to hear about the prophet of God who could cure him. You and I can tell others how they can find a miracle cure from SIN through TRUSTING in the Lord Jesus Christ, who DIED for our SIN and ROSE again.
"..you will be my witnesses.." ACTS 1 v 8.
PRAYER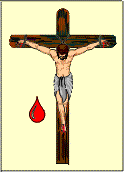 "Dear Lord Jesus, my friends have got the sickness called Sin and they need a miracle so they can live and not die. Help me to tell them that You can Heal them and wash away their Sin. Thank You for dying for me and for giving Your precious blood for me, on the Cross. In Your Name I pray. Amen."
What a wonderful God Jesus is!
Questions for you to answer:-
1) Who worked in Namaan's kitchen? ___________
2) Who could cure Namaan? ________
3) What problem have all our friends got? _______
If you would like to win a PRIZE, fill out the ANSWER FORM below. Write your NAME, your AGE, your E-MAIL address and write, "Lesson 46, Tell of Jesus." Then answer the QUESTIONS, 1, 2 and 3. Finally, CLICK the SEND button. If your answers are all correct we will send you an award.
ANSWER FORM
Or, you can print out the sheet, colour in the picture, fill in the answers, and POST to us at the address below:-
Ray and Trixie Keilty

32 Oakfield Tower
Motherwell
ML1 1XN
Scotland
We will mark the sheet and return to you with a PRIZE. Please ask your parents' permission, and include your name, address and age. Thanks.