THE LION TAMER!
That night the King could not sleep for worrying about Daniel, in the lions den. He liked Daniel a lot and did not want him to die.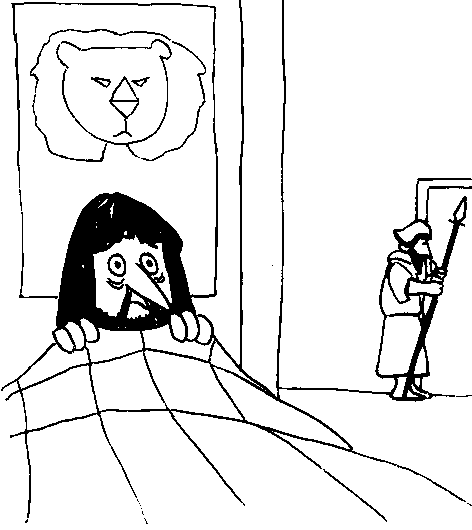 "I wonder if he has been torn to pieces," thought the King. "What God can save a man from hungry lions?" Well children, the King did not know that Daniel's God made every lion that ever was made. So He can control them all!
Early in the morning, the King got up and hurried to the lions den. When he came near to the den, the King called out with an anxious voice, "Daniel, servant of the living God, has your God, whom you serve every day, been able to save you from the lions?"
Daniel answered, "O King, live forever! My God sent His angels and He shut the mouths of the lions. They have not hurt me because I am innocent and have never done anything wrong before you, O King."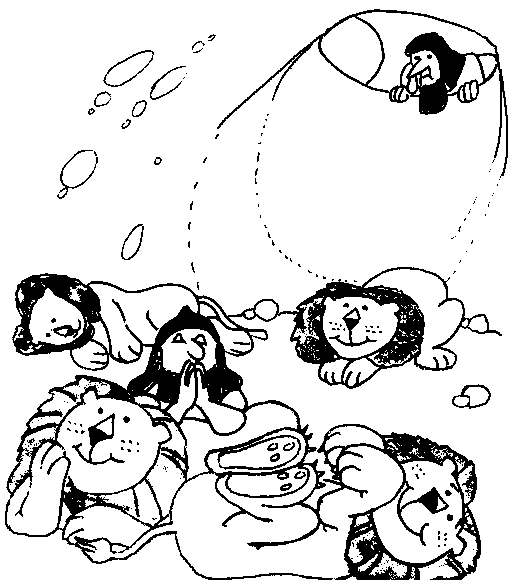 Well children, isn't our Jesus a wonderful God? Of course, He is and we know that He doesn't just save from lions but also He saves us from our SINS by His BLOOD, shed for us on the CROSS.
"...the BLOOD of JESUS, His Son, purifies us from all sin." 1st JOHN 1 verse 7
PRAYER
"Dear Lord Jesus, thank You that You are a wonderful God, who made lions and wild animals and You can keep them quiet. Thank You that You also made me, and DIED to SAVE me. Amen."
What a wonderful God Jesus is!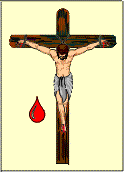 Questions for you to answer:-
1) Who could not sleep? _______
2) Where did the King go in the morning? _______________
3) What does Jesus save us from? _____________
If you would like to win a PRIZE, fill out the ANSWER FORM below. Write your NAME, your AGE, your E-MAIL address and write, "Lesson 36, The Lion Tamer." Then answer the QUESTIONS, 1, 2 and 3. Finally, CLICK the SEND button. If your answers are all correct we will send you an award.
ANSWER FORM
Or, you can print out the sheet, colour in the picture, fill in the answers, and POST to us at the address below:-
Ray and Trixie Keilty

32 Oakfield Tower
Motherwell
ML1 1XN
Scotland
We will mark the sheet and return to you with a PRIZE. Please ask your parents' permission, and include your name, address and age. Thanks.
If you would like to read a children's story about a Lion Tamer, CLICK HERE.