SPEAK THE WORD!
Hi children! How do you feel when you have work to do? Maybe your school-work or home-work; or if you are told to tidy your room or help with the dishes? Do you work HARD? Do you do the work CHEERFULLY?
Today our story is about a very important soldier. He was a CENTURION, which means he commanded 100 soldiers, in the Roman army. This special man also had a very good SERVANT, who worked hard in his master's house. The Bible doesn't tell us this servant's name, but we will call him FESTUS.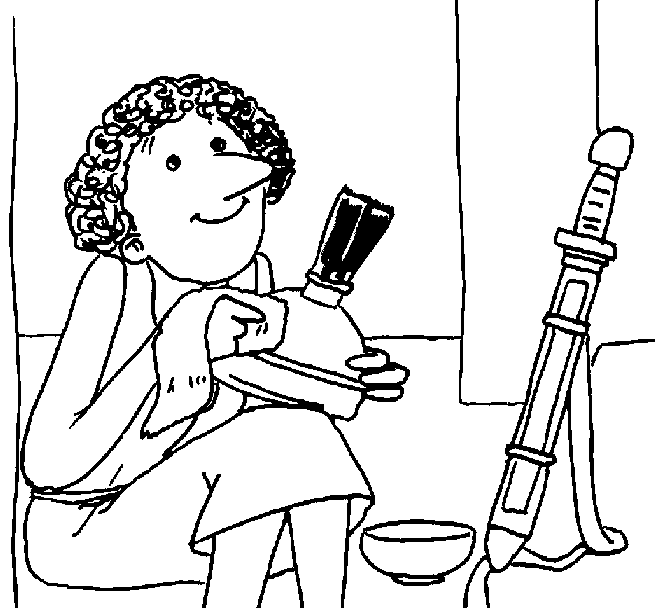 Festus really loved his master, the Centurion. In the picture here, he is busy polishing his master's helmet. He made it shine!
One day, however, Festus took very sick. He couldn't move or get up to do to his work and his master was very worried about him. In those days there weren't excellent hospitals like we have today. The Centurion decided to go to find JESUS to ask Him to heal Festus, as he was in so much pain!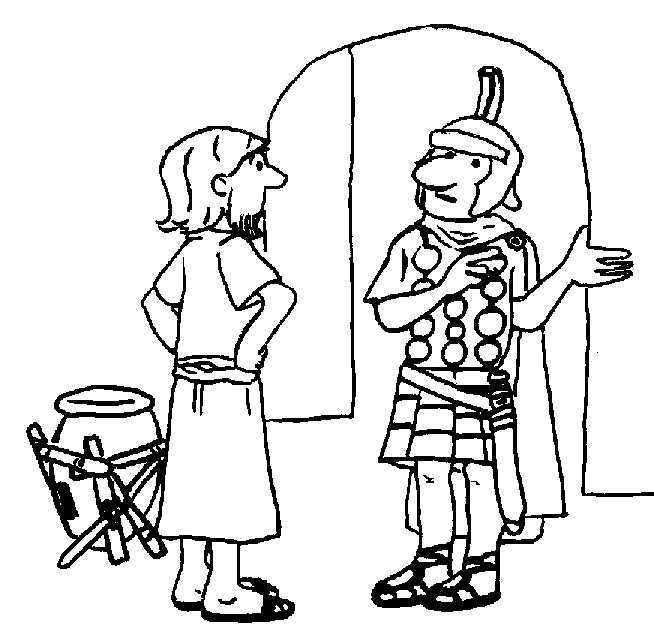 Jesus said, "I will come and heal him." But the great soldier said to Him, "Lord, I don't deserve to have you come to my house. But just say the WORD and my servant will be healed."
He explained to the Lord Jesus, "I am in charge of a hundred soldiers. I tell them what to do and they do it. I know if you just say the WORD, my servant will be healed."
Jesus was very pleased that the Centurion BELIEVED in Him, and in His power. He said to His followers, "This man has GREAT FAITH."
Then Jesus said to the Centurion, "Go home. Your servant has been healed, as you BELIEVED he would."
Well, do you know children, that when this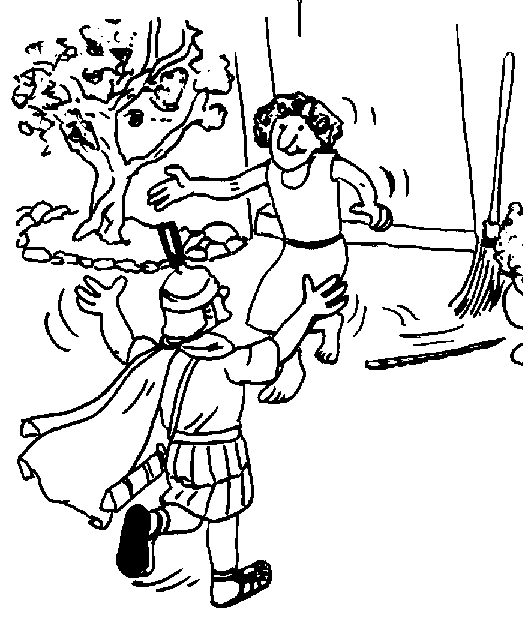 important man arrived home, Festus ran to meet him, fit and well. He had been cured at the exact moment when Jesus spoke the WORD!
Hey kids... isn't the Lord Jesus so powerful? He just speaks a WORD and MIRACLES happen. Don't YOU want Him to be your FRIEND? I do!
What a wonderful God Jesus is!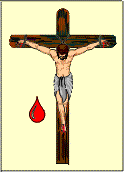 PRAYER
"Dear Lord Jesus, help me always to work HARD and to be CHEERFUL as I work. Help me to BELIEVE strongly in YOU like the Centurion did. Give me GREAT FAITH, like his. Amen."
"Have faith in God..." MARK 11 v 22.
Questions for you to answer:-
1) How many soldiers did the Centurion command? ___________
2) Jesus said the soldier had GREAT F_______.
3) Jesus speaks a W______ and MIRACLES happen!
If you would like to win a PRIZE, fill out the ANSWER FORM below. Write your NAME, your AGE, your E-MAIL address and write, "Lesson 29, Speak the Word." Then answer the QUESTIONS, 1, 2 and 3. Finally, CLICK the SEND button. If your answers are all correct we will send you an award.
ANSWER FORM