PICNIC TIME!
Hi children! It is always very nice when somebody gives you something; like maybe your pal shares some sweets with you or gives you a present. We all love to get something, especially if it's a surprise!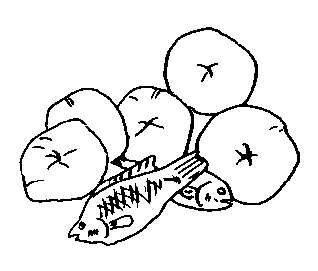 One day the LORD JESUS was given a lovely surprise - a little boy brought his lunch and gave it to HIM! The LORD JESUS had been busy teaching large crowds of people all about God's kingdom. He was feeling sorry for them all, as they had been with Him for many hours and they were HUNGRY.
JESUS knew what He was going to do - but He asked His disciples where they could buy FOOD. One of them said, they couldn't afford to feed such a crowd. There were about five thousand men; and there were many women and children too.
Andrew had been talking to the little boy. In his lunch bag he had FIVE small loaves and TWO small fish. He gladly handed them over to the LORD JESUS.
Well children, the LORD JESUS didn't say to the little boy, "Go away, that is not enough - I have a big crowd to feed!" NO THE LORD JESUS WAS VERY PLEASED TO ACCEPT THE FOOD FROM THE YOUNG LAD, AND THANKED HIM FOR IT.
The LORD made the people sit down on the grass, then He took the loaves, gave thanks to GOD and began giving out BREAD to the hungry people. Then, HE did the same with the FISH. Every single person ate till they were full and when JESUS had the disciples pick up the left-overs, they collected TWELVE baskets full!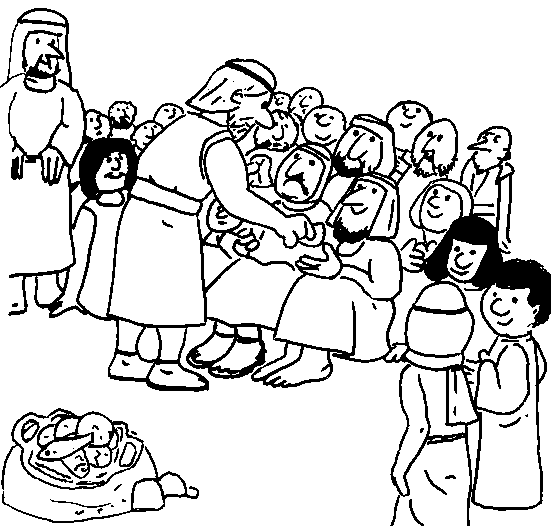 YOU may not have a lot, but YOU can give it to the LORD JESUS today and see HIM do miracles. Try SPEAKING kind words to people at home and at school. Always say, 'Please,' and 'Thank you,' and 'I'm sorry.' Try SHARING your TOYS and SWEETS today and YOU will be surprised what JESUS will do for you and for OTHERS.
What a wonderful God Jesus is!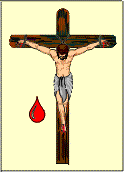 PRAYER
"Dear Lord Jesus, help me always to be kind and share my sweets and toys with others. Help me also to bring YOU something today - help me bring my heart. Amen."
"Be kind ..." EPHESIANS 4 v 32.
Questions for you to answer:-
1) Who brought the boy to JESUS? ___________
2) What was the little boys lunch? ______________________
3) What can YOU bring to JESUS today? ________
If you would like to win a PRIZE, fill out the ANSWER FORM below. Write your NAME, your AGE, your E-MAIL address and write, "Lesson 28, Picnic time." Then answer the QUESTIONS, 1, 2 and 3. Finally, CLICK the SEND button. If your answers are all correct we will send you an award.
ANSWER FORM