SHE GOT ANGRY WITH JESUS
We are going on with the story of the two sisters, MARTHA and MARY. Once,when the LORD JESUS was visiting, Martha was busy getting the dinner ready and Mary was sitting listening to JESUS' stories,when suddenly Martha began to get cross and angry!
What was the matter? She was annoyed with her sister, because Mary was LISTENING to the LORD JESUS and not helping her, in the kitchen. Martha came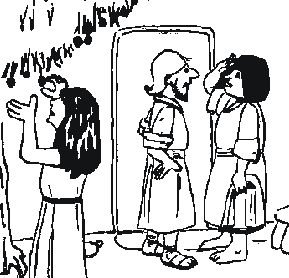 to the LORD JESUS and said, "LORD, don't YOU care that my sister has left me to do all the work by myself? Tell her to help me!" So we see that Martha was a bit annoyed at JESUS too. She felt He didn't CARE! We can be like this too and BLAME God, whenever things happen that we don't like.
"Martha, Martha," the LORD answered, "you are worried and upset about many things, but only one thing is needed. Mary has chosen what is better, and it will not be taken away from her." The LORD JESUS was teaching Martha, that Mary had done the RIGHT thing, in sitting LISTENING to His stories. Hey kids, it is a GOOD thing to be busy and to HELP people and to be KIND to others. But, it is a BETTER thing to spend TIME with JESUS, reading the Bible and PRAYING and LISTENING to Him! This will not be taken away from us.
PRAY this prayer to Him now,

"Dear Lord Jesus, thank YOU for the BIBLE and for PRAYER as these things allow me to spend TIME with YOU, listening to YOU. Teach me more about YOUR wonderful LOVE for me. Amen."
Questions for you to answer:-
1) Who became annoyed and angry? ___________
2) Martha felt she was left to do all the ____________
3) Jesus said that Mary had done the R_______ thing because it is better to L____________ to Him.
If you would like to win a PRIZE, fill out the ANSWER FORM below. Write your NAME, your AGE, your E-MAIL address and write, "Lesson 3, Martha." Then answer the QUESTIONS, 1, 2 and 3. Finally, CLICK the SEND button. If your answers are all correct we will send you an award.
ANSWER FORM
Or, you can print out the sheet, colour in the picture, fill in the answers, and POST to us at the address below:-
Ray and Trixie Keilty

32 Oakfield Tower
Motherwell
ML1 1XN
Scotland
We will mark the sheet and return to you with a PRIZE. Please ask your parents' permission, and include your name, address and age. Thanks.