JESUS GIVES LIFE!
Click on yellow box to Stop and Start bouncing letters!
When the LORD JESUS and His disciples arrived in Bethany, the town of Mary and Martha, Lazarus had been dead for four days. His two sisters were very upset. They said, "LORD, if You had been here our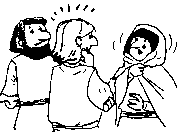 brother would not have died." Jesus said, "Your brother will rise again."
Then Jesus said, "I AM THE ONE WHO RAISES THE DEAD AND GIVES LIFE. THE PERSON WHO BELIEVES IN ME WILL LIVE EVEN THOUGH HE DIES." Well children, this is GOOD NEWS for all of us, today. If we BELIEVE in the LORD JESUS, we have EVERLASTING LIFE in Heaven with GOD!
Mary and Martha and their friends were all crying and JESUS cried too, with them! HE LOVED THEM ALL VERY MUCH. Then they all went to the cave, where Lazarus was buried. Some people were saying, "Could Jesus not have kept him from dying?"
JESUS said, "Take away the
stone." Then He prayed to His Father in Heaven, "Let these people BELIEVE that YOU sent Me." Then Jesus called in a loud voice, "LAZARUS, COME OUT!"
The dead man came out of the cave, with his grave clothes (strips of cloth) wrapped around him. JESUS said, "Take off the grave clothes and let him go." All the people were amazed, Mary and Martha were so glad to have their brother back ALIVE! Many people BELIEVED in the LORD JESUS and put their TRUST in HIM!
We hope YOU have put YOUR trust in the LORD JESUS, who died on the cross for YOUR sins and rose again from the dead.
PRAYER
"Dear Lord Jesus, I BELIEVE You gave LIFE to Lazarus when he was dead. I TRUST You to give me everlasting life. Amen."
Questions for you to answer:-
1) Jesus said to the sisters, "Your brother will R___ A_____."
2) At the cave Jesus said, "Take away the _________."
3) Jesus called in a loud voice, "Lazarus C______ O____!"
If you would like to win a PRIZE, fill out the ANSWER FORM below. Write your NAME, your AGE, your E-MAIL address and write, "Lesson 5, Dead man." Then answer the QUESTIONS, 1, 2 and 3. Finally, CLICK the SEND button. If your answers are all correct we will send you an award.
ANSWER FORM