THOSE JAIL DREAMS!
The LORD was with Joseph as he worked in the house of his Egyptian master, Potiphar. Joseph did really well at his work and Potiphar put him in charge of everything he owned. Good for Joseph!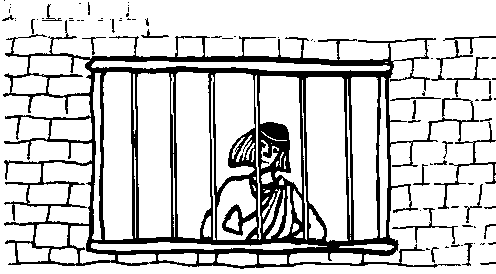 But soon a problem arose. Joseph was a good-looking and handsome young man and Potiphar's wife took a fancy to him. When Joseph refused to have an affair with her, she told her husband that Joseph had attacked her. Potiphar had Joseph arrested and sent to prison.
Poor Joseph; not only was he far away from home and family, but now he was in jail for a crime he did not commit. How unfair! How sad he must have felt!
But do you know children, the Bible says that, "while Joseph was there in the prison, the LORD was with him." Isn't that wonderful? Do you know, kids, that if we put our trust in the Lord Jesus as our Saviour, He will always be with us, to HELP us, even if we are put in prison? Jesus is a GREAT and MARVELLOUS GOD!
The prison officer saw that Joseph was no criminal and he put Joseph in charge of all the other prisoners. Joseph looked after the men very well indeed. He worked really hard to make them comfortable. One day two of the King's men were put in prison and Joseph looked after them. They were the chief cupbearer and the chief baker.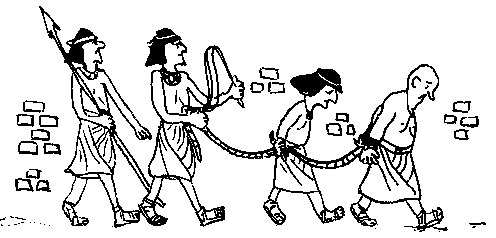 One morning, Joseph noticed that these two prisoners looked sad and he asked them what was wrong. "We both had dreams," they answered.
"Tell me your dreams and God will explain them," replied Joseph. So they told him the dreams and Joseph gave them God's meaning.
In the picture above click the button to see the meaning of the chief cupbearer's dream. Click again to see the meaning of the chief baker's dream. (Flash Player 6 is required).
The dreams came true as Joseph had said. In three days the chief cupbearer was released and went back to serve Pharaoh. The chief baker was hanged. Before he left prison, Joseph said to the chief cupbearer, "When all goes well with you, remember me. Tell the King about me and get me out of prison, for I have done nothing wrong." However, the chief cupbearer did not remember Joseph. He forgot him. But the LORD did not forget him!
"The LORD Almighty is with us.." Psalm 46:7
PRAYER
"Dear Lord Jesus, thank You that You never forget me, even when others don't remember me. Help me always to know that You are beside me, whatever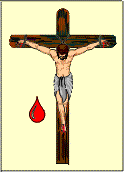 happens. Amen."
What a wonderful God Jesus is!
Questions for you to answer:-
1) Who told lies about Joseph? _____________
2) Where was Joseph put into? _____________
3) What happened to the chief baker? ____________
If you would like to win a PRIZE, fill out the ANSWER FORM below. Write your NAME, your AGE, your E-MAIL address and write, "Lesson 40, Those jail Dreams." Then answer the QUESTIONS, 1, 2 and 3. Finally, CLICK the SEND button. If your answers are all correct we will send you an award.
ANSWER FORM
Or, you can print out the sheet, colour in the picture, fill in the answers, and POST to us at the address below:-
Ray and Trixie Keilty

32 Oakfield Tower
Motherwell
ML1 1XN
Scotland
We will mark the sheet and return to you with a PRIZE. Please ask your parents' permission, and include your name, address and age. Thanks.